COMMUNICATE TRANSFORMATION & MANAGE THREATS.
Public Affairs/Industrial Relations Communication/Crisis Communication/ Internal Communication/ Media Relations
Situation – Accompanied the Sugar Sector in Mauritius during the transformation period
The historical local sugar sector, on which the country's economy was built, underwent a major reform in the last 15 years, with massive centralization of the factories and the creation of a cane industry with value-added products and by-products, instead of a sugar industry. The reform was mostly supported by funds from the EU.
Since 2006, we have accompanied the overall sugar producers who are grouped within the Mauritius Sugar Producers' Association and the Mauritius Sugar Syndicate in this transformation process.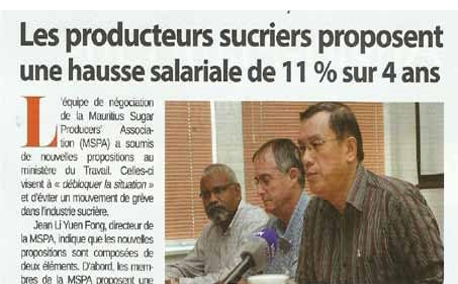 Maluti's Consulting role
Accompany the MSPA through the various stages of the reform that included a massive reduction of the workforce.
Educate stakeholders, including decision makers key opinion leaders, editorialists to the broader reality of the sugar industry including the impact of the Sugar Efficiency Act 2001 and other legislation in the context of the implementation of the measures proposed for the Sugar Sector Reforms.
Connect opinion leaders with the right people from the sugar sector.
Outcome
From 26 factories, the country now has 4 factories, with a massive and peaceful reduction in workforce, from approximately 26000 to 5000. What could have caused major societal unrest in the country was achieved with controlled damages.
Reform was mitigated by the political reticence to formalize green energy regulations, as the government has embarked on a democratisaion of the economy project, which does not include the promotion of "historical" economic actors.